Art at Barkley Regional Airport
"ORGANIZED CHAOS" BY RUSSEL BASH
Digital photographic collage printed on wall fabric

Inspired by the history and beauty of his hometown, Russel Bash invented a fresh way to appreciate the beauty of the region's architecture with Organized Chaos. The rotating shapes form an intricate kaleidoscope, each one made up of digital fragments from Bash's photographs of local landmarks. Church spires, the angles of building facades, and detailed ironwork spin together in repeating geometric patterns similar to the complex artistry found in another regional hallmark – quilting. Bash hopes that this modern way of experiencing historic architecture will inspire to explore Paducah at the Four Rivers Region to find the landmarks featured in this artwork.
ABOUT RUSSEL BASH
Throughout his lifetime in Paducah, Bash has watched the region evolve into a center for the arts. for more than a decade he has worked as a fine art photographer producing works of art for businesses and private residences. Bash takes his inspiration from the places and objects around him, especially when he can spin one's perspective to see something new.
CLICK HERE TO EXPLORE THE BUILDINGS THAT MAKE UP "ORGANIZED CHAOS"
"FLIGHT PATTERN QUILT" BY GUY KEMPER
.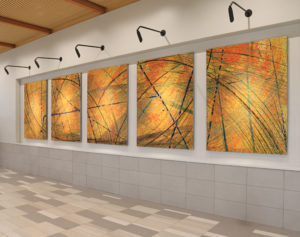 Glass mosaic, Fabricated by Mayer of Munich
Evocative of quilted fabric stitching, Flight Pattern Quilt is inspired by flight trajectories con trails, golden light and wind currents. The artwork is designed as a compliment to the surrounding architecture and references the fiber and craft heritage of the region.

ABOUT GUY KEMPER
Guy Kemper attended Murray State University where he studied art. His work can be found in airports in Baltimore, Chicago, Clearwater, Nashville and Orlando, as well as other various locations across Europe, Africa and the Middle East. Kemper currently lives in central Kentucky.
"ANGLES GARDEN" BY NIKKI MAY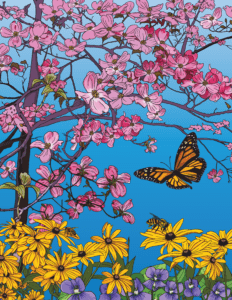 Digital drawing on window film
The larger-than life flora and fauna of Nikki May's Angles Garden transports travelers from inside the airport to the fields, forests and gardens of the region. May illustrated flowers, trees, insects and birds found in Western Kentucky and named the piece after Angles, the Paducah home of late Vice President Alben Barkley and his family. Fantastical dogwood blooms, black-eyed Susans, violets and lilacs sprout alongside a soaring cardinal, the fluttering Viceroy butterfly (the Kentucky state butterfly) and a hummingbird so detailed that you can almost hear the vibrations of its wings. May created this fantastical storybook garden as a respite from the stresses of travel. She hopes visitors are engulfed by the bright colors and movements of the natural scene which stretches over multiple seasons and landscapes.
ABOUT NIKKI MAY
Nikki May moved to Paducah from Atlanta as part of the Artist Relocation Program in 2003 after an accidental 10-year career as a corporate creative director. May was a founding member of the Paducah Arts Alliance and a board member and volunteer for the Yeiser Art Center. She also co-founded the annual Paducah Affordable Art Show. May has also created logos and designed and developed websites for many artists and arts organizations in the region and her larger-than-life artwork can be found in downtown Paducah.
KID'S COLORING SHEET BT KIJSA HOUSMAN
For the young and old art lovers alike, download a coloring sheet of Kijsa Housman's original artwork of the new Barkley Terminal.